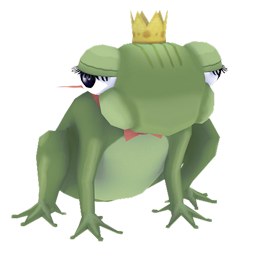 Frog
refers to the type of monsters that wander in Ruky Island and Karugarner. As the name implies, they are frogs.
Appearance
Edit
The frogs are portrayed as ordinary frogs. They look like ordinary frogs, but they wear crowns and little red cloaks possibly distinguishing them from royalty. The frogs all have a bored, glazed look on their faces.
The Fruit Frog variant of Frogs is first encountered in Ruky Island.
While the rest of its cousins can be found wandering near the coasts, plains and rivers of Karugarner
Fruit Frog
Royal Frog
Shoal Frog
Pet Information
Edit
Type: Priest
Specialities: SPR/INT
Skills: Sacred Light Bomb, Moonlight
Level Requirement: 0
Catching Difficulty: Very Easy
Locations
Edit
Ruky Island:
Fruit Frog Lv 4
Karugarner:
Royal Frog Lv  11
Shoal Frog Lv 22
Goradora:
Fatty Tree Frog Lv 42
Kazan:
River Frog Lv 39
Jian Jian River Frog Lv 40
Toxic Tumor Frog Lv 58
Fellias:
Magic Frog Lv 63
Kalarl Peninsula:
Mine-Eating Frog Lv 71
Muffled Singing Frog Lv 75
C Major Singing Frog Lv 75
Elven Land:
Well-Dwelling Frog King Lv 72
Grey Area:
Prince of Wood Frog Lv 85
Growth Chart
Edit
Genius 1
HP
137
138
139
140
141
143
144
145
146
148
149
150
MP
197
199
200
202
204
205
207
209
211
213
215
217
STR
32
33
33
33
34
34
34
34
35
35
35
36
CONS
98
99
100
101
102
102
103
104
105
106
107
108
INT
118
119
120
121
122
123
124
125
126
127
129
130
SPRT
178
179
180
182
183
185
186
188
190
191
193
195
DEX
52
53
53
54
54
54
55
55
56
56
57
57
TOTAL
812
820
825
833
840
846
853
860
869
876
885
893
Genius 2
Genius 3
152
153
155
156
158
159
161
162
164
166
167
169
171
172
174
176
178
180
182
184
186
188
190
192
219
221
223
225
227
229
232
234
236
239
241
244
246
249
251
254
257
259
262
265
268
271
274
277
36
36
37
37
37
38
38
39
39
39
40
40
41
41
41
42
42
43
43
44
44
45
45
46
109
110
111
112
113
114
115
117
118
119
120
121
123
124
125
127
128
129
131
132
134
135
137
138
131
132
133
135
136
137
139
140
141
143
144
146
147
149
151
152
154
155
157
159
160
162
164
166
197
198
200
202
204
206
208
210
213
215
217
219
221
224
226
228
231
233
236
238
241
244
246
249
58
58
59
60
60
61
61
62
63
63
64
65
65
66
67
67
68
69
70
70
71
72
73
73
902
908
918
927
935
944
954
964
974
984
993
1004
1014
1025
1035
1046
1058
1068
1081
1092
1104
1117
1129
1141
Supreme 1
Supreme 2
194
196
198
201
203
205
207
210
212
215
217
219
230
233
235
238
241
244
250
253
256
259
280
283
286
289
292
296
299
302
306
309
313
316
331
335
339
343
347
351
355
360
364
368
373
377
46
47
47
48
48
49
49
50
51
51
52
52
55
55
56
57
57
58
59
60
60
61
62
62
140
141
143
144
146
148
149
151
153
154
156
158
165
167
169
171
173
175
177
180
182
184
186
168
169
171
173
175
177
179
181
183
185
187
189
199
201
203
206
208
211
213
216
218
221
223
226
252
255
257
260
263
266
269
272
275
278
281
284
298
302
305
309
312
316
320
324
327
331
335
339
74
75
76
77
78
78
79
80
81
82
83
84
88
89
90
91
92
93
94
96
97
98
99
100
1154
1166
1178
1192
1205
1219
1231
1246
1261
1274
1289
1302
1366
1382
1397
1415
1430
1448
1218
1486
1501
1519
1537
1104
Supreme 3
Ultimate
275
279
282
317
397
402
407
411
416
456
66
67
67
68
69
76
198
201
203
208
228
238
241
244
247
250
273
357
361
366
370
375
410
105
107
108
109
111
121
1636
1658
1677
1205
1429
1881