Marriage
refers to one of the in game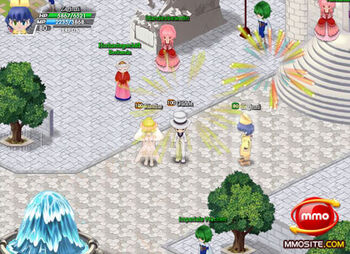 features in the world of Canaan.
Players can choose to marry each other in game, marriages can be held outside the aristocratic mansion in Karugarner.
The game does not allow game marriages of the same sex.
Requirements
Edit
Lovely Wedding Present (1200 gpotato)
Resplendent Wedding Pack (4000 gpotato)
The player will gain a special title that shows who they are married to.
If both spouses are in a party and enter a battle, both have high chances in earning gold after battle.

Example of wedding, you see the name above the player.
Fireworks:
Ad blocker interference detected!
Wikia is a free-to-use site that makes money from advertising. We have a modified experience for viewers using ad blockers

Wikia is not accessible if you've made further modifications. Remove the custom ad blocker rule(s) and the page will load as expected.