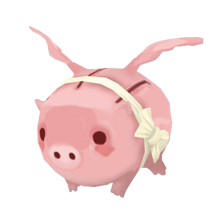 Piglets are very easy to catch in Canaan no matter what kind of pig it is. Piglets are all with same stats and with some different names examples acrobatic flying piglet and gluttonous boar which have completely different names but still have same stats exception is the canaan flying piglet that a person gets as starter pet which is the only pig that focuses on intelligence and spirit while all others focus on strength and constitution and a little dexterity. Whenever you appraise them, no matter what, it would always be a regular pet. Even if you buy many soul orbs, they would always be a regular one, which can't be a garbage, can't be a clumsy, can't be a smart, can't be a genius star 1, can't be a genius star 2, can't be a genius star 3, can't be a supreme star 1, can't be a supreme star 2, can't be a supreme star 3, and it can't be an ultimate.
Pet Information
Edit
Type: Warrior
Specialities: STR
Skills: Sacred Light Bomb, Holy Light Impact
Level Requirement: 0
Catching Difficulty: Extremely Easy
Locations
Edit
Pet Dealers:
Canaan Piglet Lv - (SPR type, Beginner's Pet)
Ruky Island:
Flying Piglet Lv 1
Karugarner:
Soaring Flying Piglet Lv 12
Gluttonous Boar Lv 23
Goradora:
Acrobatic Flying Pig Lv 30
Flying Boar Lv 42
Peak Pig Lv 43
Kazan:
Free Flying Pig Lv 46
Unfettered Flying Pig Lv 53
Fellias:
Magic Flying Pig Lv 64
Kalarl Peninsula:
Flying Local Pig Lv 77
Elven Land: Intercontinental Flying Pig Lv 72
Oralnica Flying Pig Lv 76
Ectasy Flying Pig Lv 83
Grey Area: Flying Piglet of the Farm Lv 83
Ad blocker interference detected!
Wikia is a free-to-use site that makes money from advertising. We have a modified experience for viewers using ad blockers

Wikia is not accessible if you've made further modifications. Remove the custom ad blocker rule(s) and the page will load as expected.